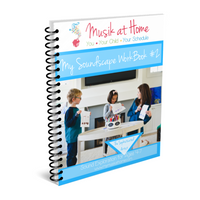 My Soundscape Workbook #2: For the Sophisticated Artist Ages 4-7
Step into a world of sound exploration with "My Soundscape Workbook # 2: Sound Exploration for the Sophisticated Artist Ages 4-7" by Musik at Home, LLC. This music activity workbook sets your child on the pathway toward music literacy. It helps children become acquainted with the sounds in their home environment and in nature. With over 40 pages of more advanced coloring and notation activities for your child, concepts covered include vocal exploration, dynamics, rhythm notation, musical instruments, and more. The workbook activities build on the musical concepts taught in the Musik at Home class series "Family Music for Ages 4-7." Students enter into the delightful themes of the class series that explore "My Home Place," "The Woodlands," and "The Cattail Marsh." This is a digital product. you will receive instant access to your digital download. 
Musik at Home classes and products give your child the chance to succeed in music!
Musik at Home Membership
High quality music education instruction is available in the Musik at Home Membership.