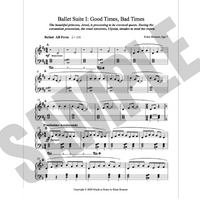 Sheet Music: Ballet Suite
Get ready to go on an epic adventure with this four movement suite for early elementary piano. The princess is about to be coronated when the ceremony is interrupted by an evil sorceress. The princess flees to the meadow where she meets adorable bunnies. Soon after, the wizard steps in to defeat the sorceress. Finally, in Coronation Reprise, the princess is crowned queen with much fanfare and celebration. 
Composed by 7 year old, Kiara Brunner, 2020 Winner of the International Piano Composition Contest: National Guild of Piano Teachers. 2020 Winner of the Frances Clarke Award for Creativity by the Northern Virginia Music Teachers Association, a chapter of the Music Teacher's National Association. 
A Princess, a Sorceress & an Adventure: A Ballet Suite for Piano has four movements: 
I. Good Times, Bad Times
II. Bounce & Walk Along
III. The Fight
IV. Coronation Reprise
6 pages total. 
Musik at Home classes and products give your child the chance to succeed in music!
Musik at Home Membership
High quality music education instruction is available in the Musik at Home Membership.